Amazon's Fire tablets essentially started life as color screen versions of the company's Kindle ebook readers, allowing users to access Amazon's other content including streaming video and music. But Fire tablets have slowly grown in size over time, as has their aspirations. The new Fire Max 11 is Amazon's largest tablet yet, turning what has traditionally been a media consumption device into even more of a productivity tool.
Uh Oh, Amazon Bought Your Favorite Robot Company
In 2021, the Amazon Fire HD 10 boasted a 1080P screen with smaller bezels, and was available with a step-up in performance with 4GB of RAM on the Fire HD 10 Plus. Amazon also introduced keyboard cases for the Fire HD 10 lineup in an attempt to expand the usefulness of the tablets, and sold them as part of a bundle with a subscription to Microsoft 365.
The new Fire Max 11 will further expand the capabilities of Amazon's Fire tablet lineup with a new 11-inch, 2,000 x 1,200 pixel resolution display that will provide more real estate for productivity tools and take better advantage of Fire OS' split-screen multitasking capabilities, which were introduced a few years ago. Under the hood, the Fire Max 11 is powered by an octa-core processor paired with 4GB of RAM and either 64GB or 128GB of internal storage, which can be further expanded with a microSD card.
Despite the step-up in performance, and upgraded features like wifi 6 support and, for the first time on a Fire tablet, a fingerprint reader built into the power button, Amazon still claims the Fire Max 11 will run for up to 14 hours on a charge, but that number will depend on what exactly you're doing with the device.
Keyboard compatibility is not a new thing for Amazon's Fire tablets—you've always been able to plug in a compatible keyboard over USB or connect one wirelessly over Bluetooth. But the Fire Max 11 works with a matching 2-in-1 case featuring a full sized keyboard with 15 pre-programmed shortcut buttons, an additional two buttons that can be customized by the user, and a trackpad where touchscreen navigation gestures can be entered without actually touching the screen. Amazon is also now offering a battery-powered stylus (with a six-month runtime on a single AAAA battery) for the Fire Max 11 that can be used for drawing, annotating documents, or inputting text using handwriting recognition.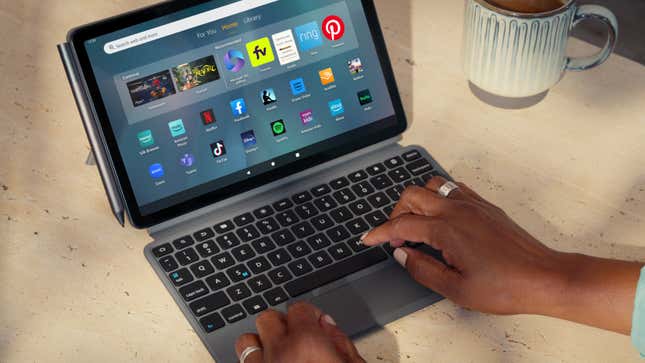 Will the Fire Max 11 bring some stiff competition to Apple and its iPad lineup? Probably not. Amazon's Fire tablet lineup isn't known for packing the best screens or industry-leading performance, and the Fire Max 11 front and rear-facing cameras are both 8MP shooters limited to capturing 1080P video.
Fire tablets are an affordable gateway device to Amazon's e-stores and streaming platforms, and that's where Amazon could steal a few potential buyers away from Apple. The Fire Max 11 starts at $230, which is $100 cheaper than even the 9th generation iPad (the model still rockin' the home button), which Apple still sells. It's also available as part of a bundle that includes the keyboard case and a stylus, but at $330, convincing consumers to go with Amazon instead of Apple could be a harder sell.