Star Wars Rebels, the first major Star Wars project released after Disney bought Lucasfilm, is about to become very, very important. And, if by chance you haven't seen it yet, or just want to watch it again, now is the perfect moment. We've got it all worked out for you.
'I Started a Yoda Fan Club'
There's been a whole lot of Star Wars since that fateful day in 2012. Under Disney, Lucasfilm has released new Star Wars movies, the first live-action TV shows, comics, books, anime, you name it. But Star Wars Rebels, which was the first big thing to come out, may still be the best. The 2014 animated series led by Dave Filoni followed a rag-tag group of heroes traversing the galaxy in the time period between Revenge of the Sith and A New Hope and had everything you love about Star Wars—Jedi, Sith, Rebels, Imperials, mythology, new characters, old characters, wild planets, incredible creatures, space battles, and more—in just the right balance to feel new, yet also nostalgic. Exciting, but poignant. Humorous, but heartfelt.
Rebels ran for four seasons ending in 2018, well before the launch of Disney+. A place like Disney+ would have made watching the show super easy (like it does right now), but instead, Rebels episodes aired mostly on Disney XD, a cable station way up in your cable listings you probably don't even know you have, if you have it at all. And because of how hard it was to find the show, Rebels never quite hit that Star Wars zeitgeist it probably should have.
That's going to change this summer because the next live-action Star Wars show, Ahsoka, directly follows the events of Star Wars Rebels. Main characters from Rebels such as Chopper, Hera Syndulla (voiced by Vanessa Marshall on Rebels, now played on Ahsoka by Mary Elizabeth Winstead), Sabine Wren (voiced by Tiya Sircar, now played by Natasha Liu Bordizzo) and Ezra Bridger (voiced by Taylor Gray, now played by Eman Esfandi) all play a major role. One of the show's main villains, Grand Admiral Thrawn (voiced and played by Lars Mikkelsen), first appeared on Rebels. And, of course, Ahsoka herself (voiced by Ashley Eckstein, now played by Rosario Dawson) didn't get her start on Rebels—her first appearance came in Filoni's 2008 animated film Star Wars: The Clone Wars—but she still had a significant role.
20% Off
LEGO Icons Bonsai Tree
A perfect tree
This magical little tree is a lot of fun to build, has a few customizable parts, and never needs watering to keep it alive. You can water it if you want, but it's not necessary.
So, if you want to know what's going on in Ahsoka there's no better place to start than watching or rewatching Star Wars Rebels. And the time to start is now. The clock is ticking. Here's how it breaks down.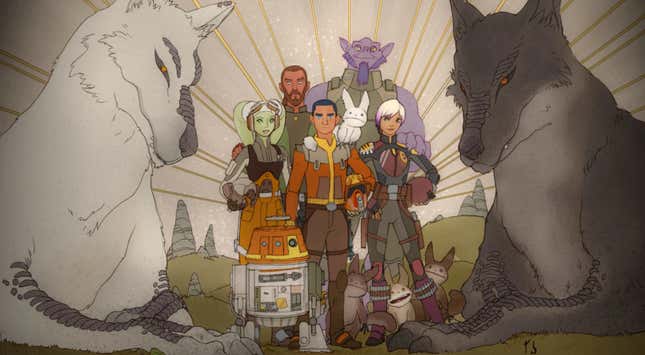 We know that Ahsoka is debuting on Disney+ in August. We don't know the specific date yet, so we're just speculating here, but August 2 is a solid guess. That's the first Wednesday of the month; most Star Wars shows debut on a Wednesday, and if it debuts any later, it makes your Star Wars Rebels crash course even easier.
It's now early May and there are 75 episodes of Star Wars Rebels to get through. Let's do some math: you basically have 13 weeks until August 2. Thirteen weeks is 91 days. If you start watching an episode of Star Wars Rebels every day from this week, you'll make it through with plenty of time to spare. If you choose to take weekends off, that leaves 65 days, so you'll have to double up once a week to finish all 75 episodes in time.
But who can watch just one? If you want to binge, you can do it in pretty manageable chunks. Every episode of Star Wars Rebels (with the exception of the finale) is around 24 minutes long (thank you, broadcast TV). Season one is 15 episodes, seasons two and three are each 22 episodes, and season four is 16 episodes. So you're looking at six hours for season one, almost nine hours for seasons two and three, then about seven hours for season four. That's about 31 hours total. Not an insignificant amount, but we're basically talking about 15 movies. Can you watch a movie a week until August? Of course you can.
And if you do, you'll realize just how exciting this upcoming Ahsoka show is to Star Wars Rebels fans. To see what Ahsoka and Sabine have planned to find Ezra and Thrawn. To see what Hera and her son Jacen are up to. And to, maybe, find out more about what Ahsoka has been doing all these years, especially the ones where her former master, Anakin Skywalker, almost corrupted his son (and Ahsoka's new friend) Luke before ultimately being redeemed. It's going to be an incredible ride.
You can find all of Star Wars Rebels (including its prequel shorts, which are 16 minutes total) streaming on Disney+.
---
Want more io9 news? Check out when to expect the latest Marvel, Star Wars, and Star Trek releases, what's next for the DC Universe on film and TV, and everything you need to know about the future of Doctor Who.